Although all companies (or at least the vast majority) claim to be customer-centric companies, the current landscape is far from that. And, despite mountains of evidence showing that improving customer service is not only good for your reputation but also good for your revenue (we know it's easier to resell to an old customer than it is to acquire a new one), the reality is that only a few companies have a customer-centric approach.
Sometimes, it may not be easy. Sometimes, the changes may feel counterintuitive, but once you go against the status quo, the impact is well worth it.
What Does Being Customer-Centric Mean?
Being customer-centric is looking at business differently. It is not the way of the past. Before, the product development process of a company was focused on the profitability of the business, and on what was useful and convenient for the company. Today, this approach does not work. The client is more informed and communicative than ever, meaning they are no longer willing to accept the wrong products or services. With the possibility of comparing and researching globally, the user looks for what they need, not what is offered.
This does not end in the need, but in supply and demand. Before, companies could afford (and it really was a luxury) to give their customers terrible service and not receive consequences. The best example of this? Telephone and internet services, have not changed their way of dealing with the customer and are waiting for a disruptor to come and dethrone them, the way Uber dealt a serious blow to taxis.
These constant attacks on the relationship between the client and the company generate disloyalty that can easily turn into detraction once a better option appears on the market. If your differentiator is price, you are probably in danger, because it will not take long for someone with a cheaper alternative to come along.
This is why client-centrism becomes the essence of today's growth. A customer who is not only satisfied, but a true brand promoter will not leave you overnight. When the company's focus is on getting sales, the result is likely to be this: one singular sale. In an upsell case, perhaps a second additional product or service could be sold; the goal is to get the most money from a single transaction. When the goal is to maintain and relate to customers, then you receive a relationship, one where the customer is not just a transaction, but a lifelong supporter of your brand.
It is important to emphasize that it is not always wrong to seek transactions and profit. There are times when they can be applied easily. Consider an ice cream parlor on a tourist beach. They don't necessarily live on lifelong relationships but rather on squeezing the most out of each sales opportunity.
1. Use The Following Metrics
As you know, the first thing you must do to improve is measure. What you measure is crucial for a customer-centric company. Take a moment to forget about sales, leads, or customer lifetime value. To succeed, consider other metrics such as:

First Response Time: This is the time it takes for your team to receive each of the tickets that arrive and for the customer to get the first response.
Problem Resolution Time: This is a key metric as it allows you to know how long it takes a customer to resolve their doubts and be satisfied. Times may vary depending on the industry, but the faster they are, the better.
CSAT: Although it measures the general customer satisfaction with your brand and not only with the support team, they are one of the first customer interactions any company can have. This score can give you a clear picture of how things are going.
2. Invest in Service
It sounds obvious, but to some extent, it is one of the main barriers to providing excellent service. If the staff you hire are not qualified enough or simply not paid enough, you can never have a truly customer-centric culture. Believing that good service comes from having more collaborators is a misperception. Yes, it is essential that there is someone on your side whenever your client needs a contact, but an initial response will be useless if, later, there is no one qualified to resolve the issue.
The support or service team is the first line of defense between your clients and the company, so you must make sure you hire the best possible talent, pay more, and, above all, give them the freedom and empowerment to become an area that does much more to answer messages and calls.
3. Listen to Your Customers
This goes far beyond doing the occasional satisfaction survey and the obligatory NPS at the end of a transaction. Listening to customers in a customer-centric company means paying attention to what they say during every interaction they have with your brand. That is why your support team must be highly trained, because every time a new ticket is opened, there is a new opportunity to obtain valuable information that can help you improve the company.
When you really pay attention to what customers have to say, you can create a balance between product and development to create new and better solutions.
4. Integrate Your Customers in the Development of New Products or Services
Building on the previous point, in addition to listening to what customers are saying about your products or services, you should also be proactive in seeking feedback. Are you going to launch a new product? Sit down with your most loyal customers first and learn, from them, what they really need instead of assuming what products they might be looking for. Taking them into account not only makes them feel valued, but will help make your products or services more desirable and have them more likely to exceed the expectations of your customers.
5. Encourage Empathy
One of the main reasons companies lose focus on their clients is because of their company head. When the client-centric culture is not preached by the top managers, it is difficult for those under their leadership to want to be customer-centric. Saying that a company must become client-centric is not going to get the job done; it has to be something that feels honest from those at the top. To spread this mindset, empathy is key. Putting yourself in the customer's shoes for every interaction they have with your company, understanding their pain well, and knowing their frustrations put everyone in the company on the same page.
6. Have Efficient Strategies
Nothing can be more contradictory than a company that calls itself customer-centric with processes and structures that prevent each employee from truly being user-centric. It's basically like placing your foot on the brakes and asking the car to accelerate at full speed. It is common to see entire teams with a real desire to help customers solve their problems. However, because of their lack of freedom they cannot do anything. Furthermore, the phrase "the customer is always right" is not a mantra that you should repeat to everyone in the company (sometimes they can also be wrong). The mission for everyone in the company should be to find the most convenient solution, one that leaves that client most satisfied. In other words, the processes within your company should be efficient and actually helpful, instead of long-winded and aimless.
8. Information is Power
Adding to the previous point, one of the key elements for a truly customer-focused experience is the sharing of information, meaning everyone who has contact with the customer can access valuable information about their interactions with the company. A CRM that keeps the information of every user updated allows your collaborators to have context surrounding what is happening. Having divided information like sales on one site, marketing on another, and customer service on a different site only generates unnecessary friction within your company and a poor relationship with your users.
9. Synchronize and Integrate your Systems
A customer-centric culture is achieved when systems talk to each other. Having all the technological tools is not enough if they are not integrated. Currently, there are countless tools that help you provide a better customer experience as well as a more agile and complete service. These tools must be correctly implemented and integrated to avoid running the risk that the information does not travel as it should. It is ideal to have a source of absolute truth to which you can always return (in many cases the CRM), to ensure that the rest of the systems have the same data.
10. Learn Best Practices
Get inspired by everything around you to take your company's service to the next level. Every good experience you have as a customer is teaching you what to replicate in your company. It is not just about copying others, but about looking for how that experience could have been even better when you implement it. As for the technical part, you can go to specialized companies that help you to have an advanced tech stack to make interactions with your customers as efficiently as possible.
You're Not Alone
Between the human part and the technical part, there is too much information to digest. No one can tell you how to provide the best service for your clients. Only you can know that because you are the experience owner and the person responsible for making it the best it can be. However, you can always improve on the technical side.
At CRM Toolbox, we have dedicated ourselves to helping countless companies improve their quality and service by implementing HubSpot and their different Hubs. If you want to know how the HubSpot Service Hub can help your company, contact me. I'd love to hear about your challenges and needs. Together, we'll find the best path with the right tool.
Master HubSpot tools & unleash a world of endless possibilities!
Unlock Your HubSpot Powerhouse: Contact Us to Transform Your Digital Journey!
Start your onboarding
Ranya Barakat
Ranya is a serial entrepreneur with over 8 years of experience working on the HubSpot CRM. She loves pushing her sleeves up , and getting s*** done. When she is not running her HubSpot partner agency, you can find her upside down on her yoga mat.
Subscribe to our blog
The best information about inbound marketing, sales, guides and migrations.
Related Reads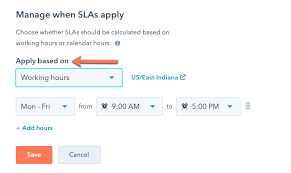 SLA: The HubSpot Tool That Will Revolutionize Your Customer Experience
How do you know that the interactions with your customers are well received? Can you see if the agreed-upon terms are coming to life? Are ...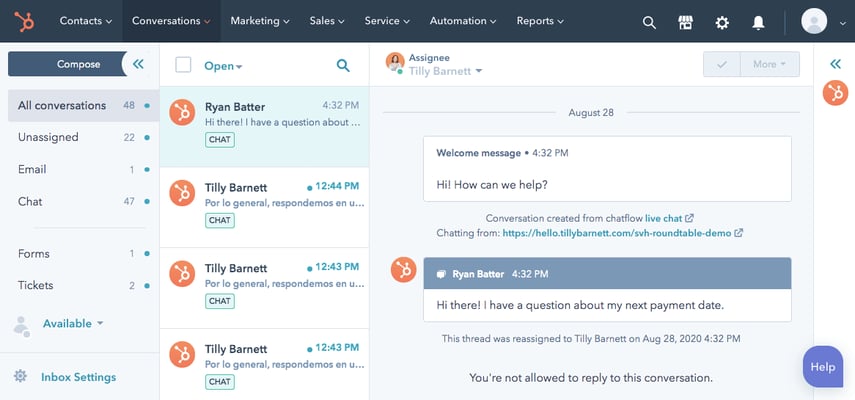 HubSpot Service Hub vs. Zendesk
If you're looking for powerful software to help your customer service and support team provide better service, you've probably already ...