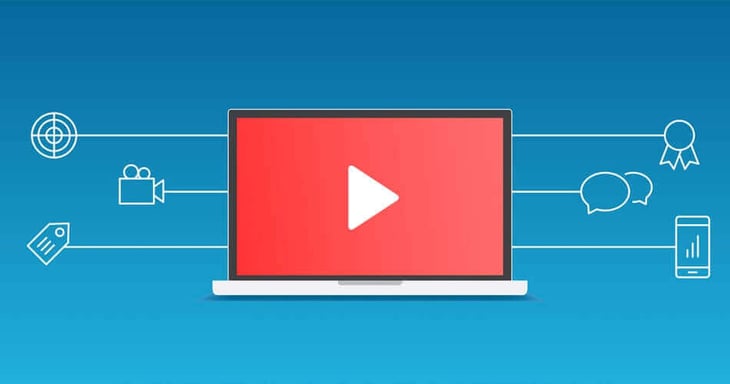 Thanks to the Inbound marketing methodology, we know the power that blogs have in the conversion process, to turn visitors into leads. The more content they get, the better qualified they will become. But these aren't the only type of content. Videos are an amazing source of content that will deliver benefits in conversion, positioning and presence, which, if you're not using, you're really missing out.
Videos are a great ally for Inbound and content marketing. They don't just let you dive deeper into a subject, but they can also increase conversion rates in up to 80%, improving the results of the content strategy.
Integrate videos also brings a lot of benefits. And while the cost, time and personnel needed to run a video campaign is bigger than when blogging, we advise that your Inbound plan considers them. Here is a couple of examples.
Better emails
Every day we receive thousands of emails offering products, services or reminders but nobody has time to read them all or click on some of the things that looks truly appealing, making the intention of emails to be lost and wasted.
And while Inbound and its email marketing approach have been able to increase the open rates, this number can be taken even higher by adding a video in the formula.
Thanks to the attractive format that a short video delivers, it is possible to offer a content piece in a simple, didactic and appealing enough to make people click to learn more.
Due to this, it isn't surprising to learn that emails with embedded videos have a 200% to 300% greater click-through rate than those that don't.
Easier repurposing of content
As a content creator, I know how it feels when there's a drought of subjects to write about. There is a point where blogs can't be republished anymore and have been drained up to the last drop.
With videos, you can even triple the life of each blog by making one about it. Every single one brings a new subject and theme for a video, and all that it will take is to adapt it into a script. Making your work value more and bringing new life for your sources.
Generating video content out of all your blogs you will open the doors for a new Buyer Persona in sites like YouTube and social media, who will be attracted to a content that they wouldn't have discovered otherwise.
A companion on the journey
Videos don't only help in conversion, but they can be used throughout the entire buyer's journey, and used as new content offers for lead nurturing.
Videos can be used as:
Informative content.
On-demand Webinars.
Product guides.
Case Studies.
Post-sales guides.
If all of them follow the same design, prospects will be able to associate your brand with the entire video library and they will recognize you have enough content that can help them through their entire process, increasing trust and loyalty.
Generates more interest
The magic of Internet video streaming is that, by design, they introduce the user into a loop of content that is hard to get out of.
I think this has happened to every single one of us. Watching a video and then keep watching the ones from the suggested bar or playlist is something common in prospects and users. Leveraging this consumer behavior into your content can be as successful as any Call-to-Action or blog recommendation.
In fact, getting a lead to enter this cycle can nurture even more interest. Studies show that 50% of executives want to learn more after watching a video, increasing the chances for a conversion.
Don't miss the opportunity of bringing videos into your content strategy. It is easier than it looks and you'd be missing a great tool for your company.
Do you have a video content strategy? Tell us how it has been working for you!