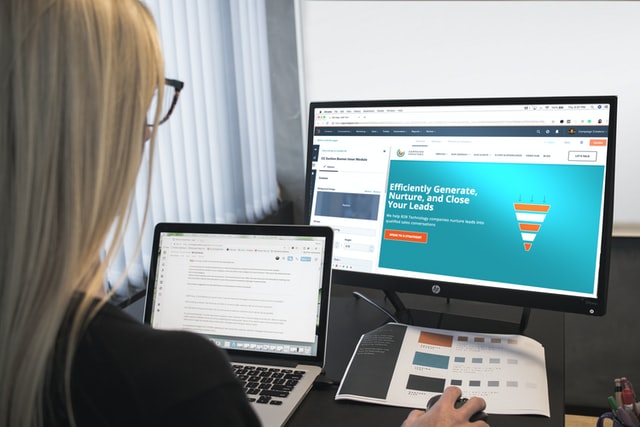 How To Migrate Your Site Into The HubSpot CMS
If you already have one of HubSpot's hubs, be it Marketing, Sales, Service, or Ops, you must have realized that a key piece in any customer-centric strategy is your website. And it doesn't matter what automation tools you use, how you design your lead nurturing strategy, or how good your sales team is, most of the traffic you generate will end up on your website.
Why not have one that's integrated with HubSpot? It will allow you to provide a more complete experience for your customers that allows you to enhance your strategy. This is what the HubSpot CMS does. The best part is that you can take your website (no matter what platform it is on) to this tool.
What is a CMS?
CMS stands for Content Management System and it is where HubSpot shines. As you may already know, HubSpot is an extremely powerful tool focused on two main factors: improving the customer experience and making it easier to manage your team.
With this in mind, HubSpot has a website management system that empowers your team to create pages easily, without the need for developers. Once you have your design system and main templates created, developing new content is extremely easy to do.
A CMS needs to be simple to use, have a functional front for the user, and optimize the experience, It should be responsive and it has to go with analytics that allow you to measure the results of each action taken, in addition to those of Google Analytics.
Why the HubSpot CMS?
The first thing that stands out about this CMS is that it belongs to one of the companies that is most committed to improving customer experience, so you know that the final UX of the platform will always be optimized. Its native connection with the different HubSpot Hubs allows you to integrate forms and call-to-action buttons. You can also include personalized content experiences where the end-user views different pages and content.
Since it's integrated with HubSpot, it will give you the possibility to create native forms, design email marketing campaigns, have user behavior metrics, and more.
If you have been using other platforms for years, you know that changes to a website are often less simple than they seem at first. Luckily, there are different ways to migrate your current content to the HubSpot CMS, from free options to custom plans. Everything depends on your needs and what your priorities are.
1. HubSpot Migration (Free)
This feature is available to HubSpot CMS customers in the Professional or Enterprise versions of HubSpot. For this, the HubSpot team assigns you a brand specialist who makes sure you get what you're looking for during the migration. This migration is standardized and cannot be tailored to any requirement, so it is important to understand how the HubSpot team will use their existing modules to offer you a site that is as close to your current page as possible.
Although this is a free migration, it's only free for the first 20 pages that you are moving to the HubSpot CMS. After that each additional page will cost $20.
Because of the limitations of using the free HubSpot service, there will be things that cannot be transferred including content generated by external users, blog comments, mega menus, menus that use images as a base, pages created in Flash, and third-party applications.
This process takes between 2 and 3 weeks to complete depending on the elements that need to be replicated and the number of pages that have to be made.
2. Template Migration ($200)
Like the first migration, this service is only available to HubSpot CMS Professional and Enterprise users. It is an option that is initially less fast than migrating your pages as they are, but in the long term, it is a much more convenient alternative. It will give you the freedom to generate content on your own in the future without having to go to developers, one of the reasons why migrating to HubSpot is worth it. With this option, you will get a set of different templates with elements that replicate the closest thing to your original site. These templates will work with drag and drop elements, which means complete autonomy to create new pages and blogs from these structures, freeing your team from developer dependencies.
These templates, in addition to fulfilling the function of creating pages in a simple way, help standardize the user experience by offering pages with simple navigation. It is important to take into account that key navigation elements such as the header, footer and fonts will be migrated, however the content of the pages is not included in this migration scheme.
This technical support takes between 1 and 2 weeks, plus the time it takes you to recreate all your pages once you have the templates ready.
3. CMS2CMS
If you don't want to use HubSpot's pre-built solutions, there are third-party options that can also help you get the job done. A great example is CMS2CMS, a migration tool that is compatible with almost any CMS, meaning you can migrate your content to HubSpot. Whether you use WordPress, Wix, SquareSpace or something else, this tool takes your entire page from wherever you are to HubSpot in less than 15 minutes with minimal effort. It's just a matter of creating an account, integrating the tools, and waiting.
They even have a demo where you can test the solution to see it is what you're looking for. The great advantage of this tool is how it is more flexible than the previous alternatives. With this software, you can transfer your pages, blog posts, content images, and deeper settings like users, tags, SEO tags, metadata, user comments (and their names), and attachments.
How much will it cost? It will depend a lot on the platforms and the number of pages and contacts you want to migrate. For example, if you wanted to migrate 300 pages and blog posts, 2,000 users, and 1,000 comments, the cost would be $199.
It is important to note that this does not include templates, so once you have everything on your new site, the option to generate new content using templates will not be possible until you develop your own.
4. With a HubSpot Solutions Partner
This is the most personalized option for those who see migration as an opportunity for growth and not just something that must be done.
When you work with a partner, one of the main priorities should be keeping the basic foundation of your site and loading speed as optimized as possible. In addition to that, creating the possibility for autonomy and flexibility throughout the migration is crucial.
In the short term, it may seem that going through migration of this type is much more expensive. For example, a CRM Toolbox migration can start at $5,000, while HubSpot migrations start at $200. However, understanding how a botched migration can cost you more in the long run narrows the budget gap. If you have to fix it, you'll have to pay more.
In addition, a migration carried out by a Partner allows you to see how the pages will be taken from one site to another individually, ensuring that everything is moving as it should be, debugging things that aren't going smoothly, and indexing each of the pages correctly.
If your migration is easy and you consider HubSpot's offer more than enough, your site will likely migrate without any complications. If, on the other hand, you are unsure of which option is right for you, then it is probably a good time to approach a specialist and discuss your main fears and requirements.
If you wish, I can gladly have a call with you to listen to your needs and recommend the solution that best suits your needs.
Master HubSpot tools & unleash a world of endless possibilities!
Unlock Your HubSpot Powerhouse: Contact Us to Transform Your Digital Journey!
Start your onboarding
Izzy
My name is Izzy and I am a co-founder of CRM Toolbox, an award-winning HubSpot Solutions Partner. I lead our team of consultants who provide professional guidance to help businesses implement the HubSpot CRM platform migrate, integrate their tech stack to HubSpot to create a seamless environment for sales reps to use. There is nothing I love more than solving the challenges that come up when someone wants to migrate an old system or integrate their tech stack with HubSpot - it's like a puzzle!
Subscribe to our blog
The best information about inbound marketing, sales, guides and migrations.