If you're looking for powerful software to help your customer service and support team provide better service, you've probably already heard of two of the most complete systems: Zendesk and HubSpot. Although it might seem like an insignificant decision, since both are good options, the one you choose may have repercussions in the short and long term.
The first thing you should consider is your end-users because the less friction they have with the product, the more focused they can be on giving your customers attention and complying with the SLAs. This will increase the productivity of your team, improve the experience of your customers, and bring more revenue to your business.
Before defining which tool suits you, it is important that you know what each one has to offer. Not only do they have different features, but also unique packages and prices which can sway your decision towards one direction.
Zendesk
Let's start with the platform that has been in the service market the longest, originating in Denmark in 2007, as a specialized software for facilitating conversations between companies and clients.
As is common in this type of platform, Zendesk has a free version that allows you to test its tools and quality of service to understand if it is what you need. This trial version is only available for 30 days.
As for the plans, Zendesk is divided into 5 levels: Team Suite, Growth Suite, Professional Suite, Enterprise Suite and Custom Suite.
Suite Team ($49 a month per agent)
It is the simplest version but still just as powerful. With this tier, you can manage all of your conversations from the same place. It gives you access to:
Unlimited integration with email accounts
Contact Forms
An incoming email authenticator
A customizable live chat
A help form outside of working hours
Macros with keywords to automate actions and responses
Real-time translation (with Google Translate)
Transfer of conversations between agents
Social media messaging channels
Telephone service and outgoing calls from the platform
Self-help section (this allows you to suggest relevant articles and solutions to users)
Bots for response automation (limited to 50)
As you can see, this simple version is more than enough for the vast majority of companies, as it has enough potential to satisfy all the needs of a support team with a low investment. However, if your team has multiple agents, the cost can quickly add up and become less profitable.

Suite Growth ($70 a month per agent)
For the next level of Zendesk, the price increases by 60%. It has all of the features as the previous tier, along with the additions of:
Self-Service Portal: Here, your users can manage their requests. This portal works as a forum where other users can add comments and offer their solutions, creating a community that not only enriches itself but also gives greater self-service to your users.
Artificial Intelligence: This creates a more diverse knowledge that helps to better manage cases.
Multiple Customizable Forms: Choose which fields are necessary and which are not depending on the type of contact or ticket you're working with. This allows you to have relevant information for each situation and never miss essential points/data, facilitating solving each case.
Content in Different Languages: While the Suite Team version only has a knowledge base in 1 language, this level allows you to have over 40 languages ​​in one place.
The difference in prices is justified if you have a company that operates in several countries or one that requires support in more than one language, or if your company has a large number of customers where a support community can be beneficial. Otherwise, the level change is not recommended.
Professional ($99 a month per agent)
In addition to everything that is included in the previous two versions, Zendesk Professional is probably the most interesting option for large companies because it has a couple of features that provide greater depth to customers.
Agent-Based Conversation Forwarding: You can assign various cases based on the specialty of each of your agents, offering a more efficient experience for users. If all your agents fulfill the same functions, there is definitely no benefit here.
Private Threads: In addition to the attention they give to customers, your agents can create private conversations within the same ticket, achieving faster solutions that involve other areas.
Selecting a Place to Store Data: Depending on the restrictions and needs of your company, this function allows your account data to be stored in the United States, APAC, or the European Economic Area. This is for those of you that have to follow special or regional regulations.
Community Forums: In these spaces, your clients will be able to interact, find common solutions, give each other support, and find the most appropriate answers to each of their questions.
If you have an international company and have to follow the regulations of each region, this is a better alternative since it gives you greater flexibility without much of an increase in price.
Enterprise ($150 a month)
This is the most complete version of Zendesk because it allows you to customize the platform the most from your agents' panels to the roles that each one has. This is a version designed for large and multinational companies that need to adapt the tool without having to create a custom solution.
Custom (from $215 a month)
By telling you that this is the option used by companies like Uber, Gartner, and Netflix, you can imagine the deep customization that can be achieved through Zendesk, one that can be as impactful as proprietary software.
HubSpot Service Hub
HubSpot is much newer than Zendesk in the Service area (the Hub was only launched in 2018), but the experience they bring from their CRM, Marketing, and Sales Hubs allow them to offer a very attractive solution that practically becomes a plug & play if you're already a HubSpot user.
If you are already a user of any of the other Hubs, you know what they are capable of. As with its other hubs, there is a 100% free version, which, unlike Zendesk, is not a trial version with a limited time, but rather a fully functional one that you can work with without any limitations. In addition to this plan, there are the Starter, Professional, and Enterprise versions.
Free Version
For teams that are just starting out and don't want the software to be an investment, HubSpot provides all the basic tools without asking for anything in return. Not only are you getting a platform to manage your company's tickets, but you can also use the CRM (HubSpot's main strength) without having to spend a penny. With this version you can:
Assign tickets to members of your team to solve according to priorities and urgencies.
Use the Live Chat: This widget allows you to carry on real-time conversations directly from your website.
Have a Single Mailbox: This is one place where you can see all the conversations that take place between customers and your brand by mail, chat, or social messaging.
Use a chatbot to automate some conversation flows and resolve your customers' doubts more efficiently (this function is somewhat limited, but it is 100% functional).
Gain access to response templates for email and chat.
Gain access to basic reports to see your team's productivity metrics.
Gain access to open mail notifications that let you know when one of your replies was read.
With all these features and a few more, this free version is powerful enough to serve small teams that do not require anything very complex and seek to serve their customers from the same reliable platform. With automated features that can be scaled up as needed, this tier allows your business to grow.
Starter ($45 a month)
This plan includes two paid licenses and each additional user costs $23 per month. However, you can have free and paid users on the same account which can help keep the cost down. One of the main advantages of the free plan is that you can remove HubSpot branding from live chat, documents, and appointments, further customizing the experience with your brand. Additionally, you can count on the following services:
Up to 5,000 email templates
Unlimited email open and click notifications
Up to 500 minutes of outgoing calls
Assignment of calls by agent
Ticket automation
Up to 10 reporting panels with 10 reports in each
Easy integrations with apps like Slack
Professional (from $375 a month)
The jump between the Starter and Professional Hubs is quite considerable. For larger teams, this becomes much more cost-effective because there are already 5 users included with the tier. With the Professional tier, you can give better attention to your clients and automate processes, freeing yourself from unnecessary friction. It also comes with the vital feature of SLA Management.
SLA: These are the Service Level Agreements that you have with your customers and, thanks to this tool, you can automate and measure these levels more clearly during interactions with your customers. From the creation of automatic flows, alerts when a case is at risk, and specialized reporting, SLA handling within HubSpot is available only from this Hub.
Knowledge Base: Turn all the information you have into quick answers to frequently asked questions so that your customers can solve their doubts without having to contact your team.
Automations: Assign tickets according to the needs of your business, emails, status, properties, and more for more efficient management.
Customer Portal: This is a customizable section where your customers can view and manage their tickets and access the knowledge base.
Channel Switching: Take the conversation wherever you want, from email to Facebook Messenger, to a chat, on the same line, without losing details.
Support for your Telephone Collaborators: If they need immediate help, they can contact the HubSpot specialists from the client portal and receive the necessary support.
Enterprise (from $1,200 a month)
HubSpot Service Hub's most complete plan is built with large teams in mind. The license includes 10 seats/users, and each additional one costs $120 per month. In this plan, the platform configuration level is much broader, giving your company the ability to assign hierarchies to your teams, create special permissions, use customizable objects, and test environments for special developments.
In addition, it has artificial intelligence tools that improve the analysis of every call your team makes. These tools automatically follow up on topics of interest and can create reports based on them. They also use renewal prediction tools and functions to design advanced automation.
Which to Choose?
Since you know the differences between each of the packages and available service hubs, it is time to make a decision. Although both are highly recommended, there are some points that you should consider before choosing your favorite.
The first thing you should take into account is the size of your team and the scaling plans you have. If your team is small, you're probably covered with the free version of HubSpot, as you get more than just a messaging platform without spending a dime. Plus, if you decide to upgrade to Starter, it will still be cheaper than Zendesk's most basic option.
For larger teams, the choice depends on what tools you are looking for. While HubSpot shines for its automation, CRM, and contact management experience (with and without workflows), Zendesk is much more focused on conversations and providing attention/service at the moment, regardless of the channel through which the client reaches you.
In terms of ease, both are tools with a user-focused UX so either can be easily implemented. However, if you want to exploit HubSpot's potential by integrating it with the rest of your tools, it is best to go to a specialized agency, as this will allow you to get more out of each interaction with your customers.
In the end, the most important thing is to understand what your team needs and how the tool can help them do their job better. Details such as the channels they use, how many automated responses they need, how many agents they have, and how their workflows will operate impact the decision you must make.
The good news is that you already have all the information to make informed choices and turn your Customer Service team into a sales and satisfaction tool that fosters the growth of your company.
If you still have doubts about how you could use this software in your company, I would love to talk with you about your challenges and needs, as well as what HubSpot or Zendesk can do for your business.
Learn how to utilize every tool inside of your HubSpot.
Prepare your teams to take ownership of HubSpot and make the most out of your investment.
Start your onboarding
Ranya Barakat
Ranya is a serial entrepreneur with over 8 years of experience working on the HubSpot CRM. She loves pushing her sleeves up , and getting s*** done. When she is not running her HubSpot partner agency, you can find her upside down on her yoga mat.
Subscribe to our blog
The best information about inbound marketing, sales, guides and migrations.
Related Reads
10 Ways HubSpot Service Hub Helps
Although all companies (or at least the vast majority) claim to be customer-centric companies, the current landscape is far from that. And, ...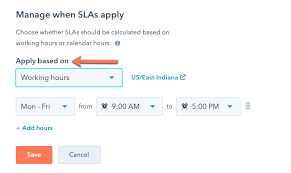 SLA: The HubSpot Tool That Will Revolutionize Your Customer Experience
How do you know that the interactions with your customers are well received? Can you see if the agreed-upon terms are coming to life? Are ...