Seamless HubSpot Integrations for Enhanced Efficiency and Performance
Let us help you unlock the full potential of your tech stack by seamlessly integrating it with HubSpot
Sync your data with HubSpot fast
2x
faster than an average agency
Check out our latest award
Struggling to Manage Disconnected Tools and Inefficient Processes Across Your Business?
Disconnected tools and fragmented data make maintaining a unified view of your customers challenging, leading to missed opportunities, miscommunication, and poor decision-making. Time-consuming manual tasks and difficulty aligning marketing and sales teams further hamper your growth potential.
Transform Your Operations by streamlining your processes, unifying data, and enhancing collaboration for maximum business impact.
Let us help you unlock the full potential of your tech stack by seamlessly integrating it with HubSpot, resulting in improved customer experiences, increased efficiency, and accelerated business growth.
Are you facing any of these data integration challenges?
Inaccessible Data Slowing Down Your Business Decision-Making Process.
---
Struggling to Deliver Personalized and Engaging Customer Experiences
---
Experiencing Misalignment Between Marketing and Sales Teams.
---
Overwhelmed by Time-Consuming Manual Tasks.
---
Having Trouble Gaining Insights from Disparate Data Sources, so it's better to stay as we are now.
---
Worried About Outgrowing Your Current Technology Infrastructure
---
Inaccurate or Inconsistent Data Across Your Systems
---
TECH STACK WE WORK WITH
How much a custom HubSpot Integration cost?
HubSpot custom integration pricing depends on factors like the system we are integrating with and the complexity of the integration, the frequency of the sync, volume of data synced, etc.
We have answers to your questions...
With over a decade of experience in HubSpot integrations, we have worked with businesses across various industries, sizes, and regions, connecting many tools and platforms to HubSpot.
Our expertise covers CRMs, marketing automation platforms, e-commerce solutions, and CMS systems.
We deeply understand HubSpot's API, which allows us to build robust and seamless integrations that cater to your unique business needs.


Absolutely! We have an extensive portfolio of successful HubSpot integration projects, showcasing our ability to deliver results that drive growth and efficiency for our clients.
We'd be more than happy to share relevant case studies and client references showing our expertise in your industry or the tools you're looking to integrate.
Please let us know what you prefer, and we'll provide the appropriate materials.


Our team utilizes agile methodologies, ensuring flexibility and adaptability throughout the integration process.
We assign a dedicated project manager to be your single point of contact, providing regular updates and addressing any concerns along the way. We also schedule periodic meetings, including kickoff, progress, and review sessions, to keep you informed and engaged in the project.


Yes, we specialize in creating custom integration solutions tailored to your specific business requirements.
Our skilled developers and HubSpot experts work closely with you to understand your unique needs, developing custom integrations and configurations that align with your goals and enhance your tech stack's capabilities.
We also ensure that our custom solutions are scalable and future-proof so they grow with your business.


Our pricing model is designed to be transparent and flexible, ensuring that you only pay for the services you need.
We offer fixed-price and hourly pricing options depending on the complexity and scope of your integration project.
During the initial discovery and assessment phase, we'll work with you to make a detailed proposal outlining the project's costs, including any potential additional fees or ongoing support costs.
This ensures that you clearly understand the investment required and can make an informed decision.




Let's talk about your HubSpot integration project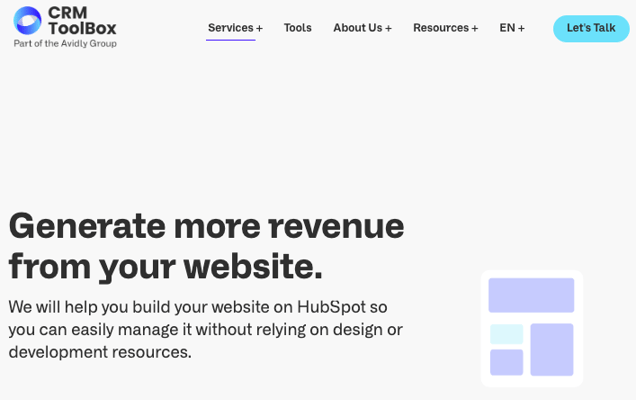 How to Build A Site Using HubSpot CMS
When one thinks of HubSpot, the first thing that comes to mind is its powerful CRM and automation tools. However, one of the hubs that can help your business grow the most is CMS.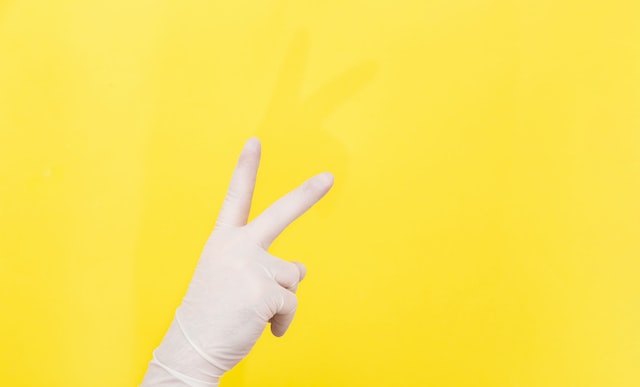 One hub or all hubs at once?
If you already work with one of the HubSpot Hubs and are starting to consider expanding your product portfolio to complement your operation and fully optimize the benefits of HubSpot in each area of ...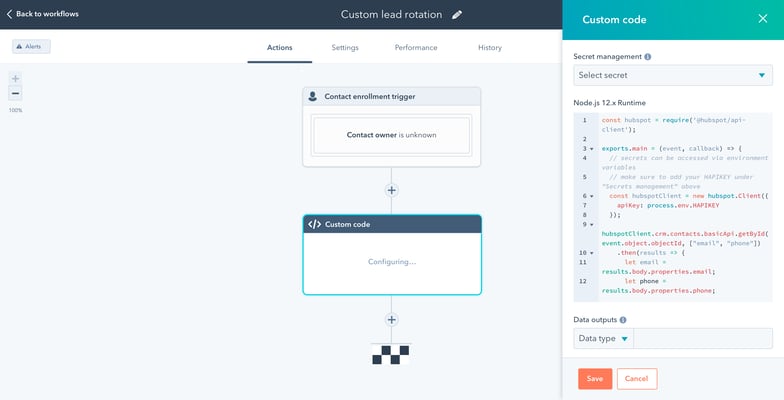 How Operations Hub Can Improve Your Data
Data quality is one of the most important concepts when it comes to your CRM and company success. Data, at the end of the day, is the engine that drives the company's strategy, giving you a ...